Offshore Development
Offshore means "off the shore", i.e.) overseas. Offshore development is the system development executed abroad. In case of BJIT, we are operating based in Bangladesh where more pro-Japanese and more competent resource are abundant than other advancing countries which cost of resource are much cheaper than Japan. Currently, around 60% of IT enterprises are introducing offshore development, and the scale of the market is expanding year by year. Our recommendation is Lab type development which enables client to keep the fixed resource with ease.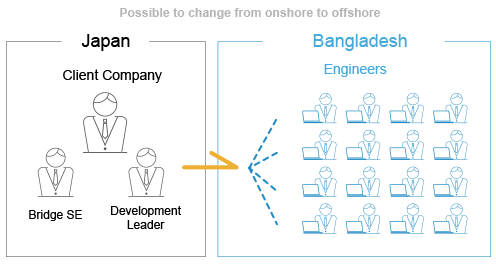 Benefits of offshore development
Benefits of offshore development are:
Possible to drop the development cost drastically.
Scalabity of the team is high.
Possible to keep the competent engineers
BJIT can provide with outstanding cost reduction compared with other companies.